Discover more from Practically Fit
Two best friends trying to escape fitness culture and sharing safe, real fitness ideas for people over 40.
Running v. Cycling: Why Cycling Reigns Supreme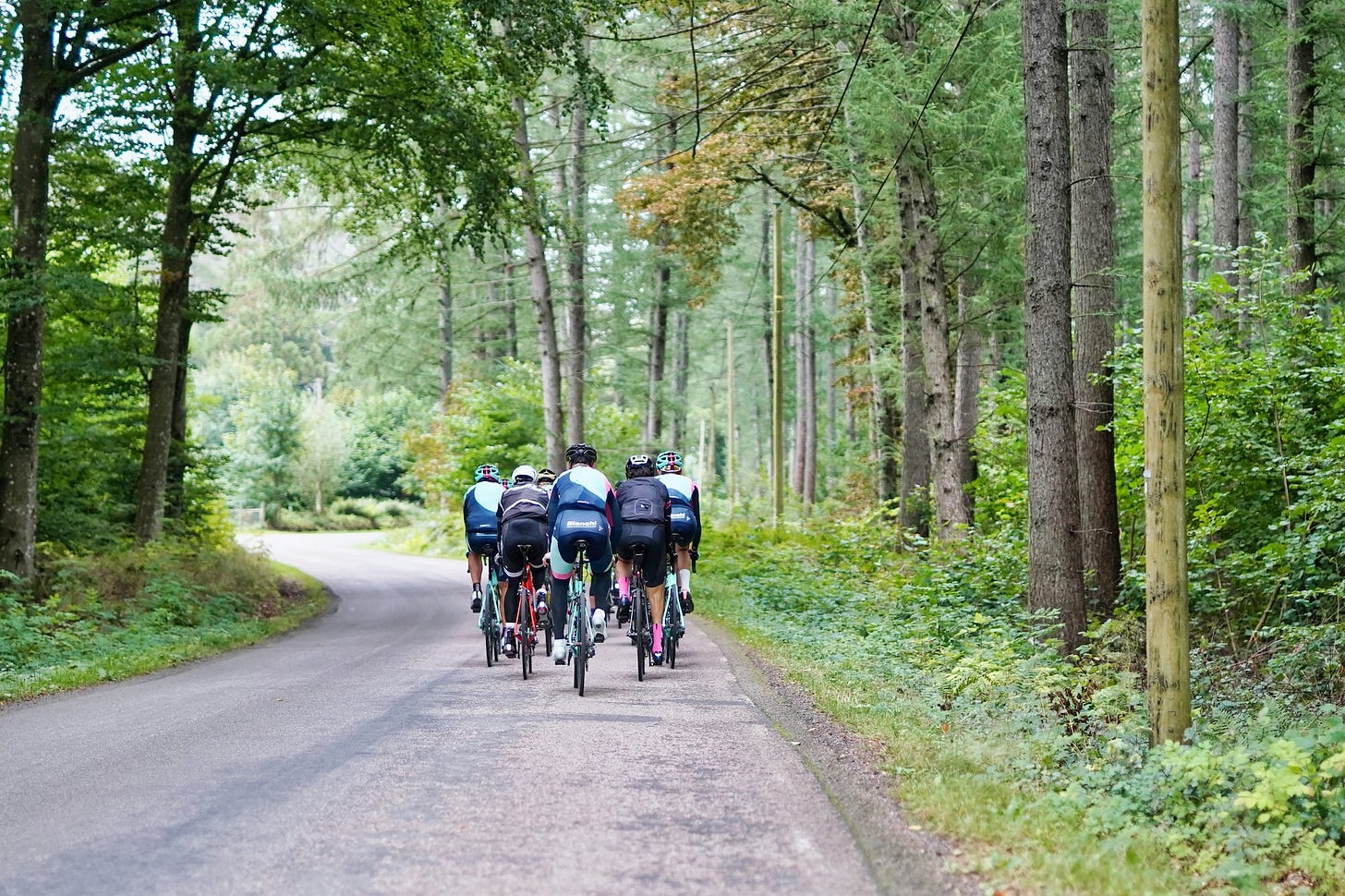 For years, I'd wanted to try a road bike. The problem? They're expensive. I waited and waited, and finally, in May of 2020, like so many others during the pandemic, I bought a new bicycle.
But for me, it wasn't about looking for outdoor activities while feeling cooped up. I'd been admiring road cycling from afar ever since I watched my first Tour de France in 2003. The time just felt right. My back was hurting from running and I wanted to make the switch. I wanted to stop being a runner and start being a cyclist. I got lucky and found an entry-level Trek Domane AL 3 at a local bike shop, despite the shortage. Off I went.
More than two years later, I'm thrilled I made the switch. I love cycling more than I loved running, my body feels great and I even found the love of my life because we both featured cycling prominently on our Bumble profiles (that's a whole other story).
I've learned a lot about cycling in the past few years, and I want to share the reasons why I think it's the better all-around cardiovascular activity, especially for all you runners out there who are thinking about make the switch.
Cycling Builds Killer Legs, Even If You're Skinny
This one may seem obvious, given that many avid cyclists often seem to be sporting large thighs and calves. As a skinny guy, I've personally found cycling has made my legs look better than any other exercises I've done in the past, and I used to frequently do squats and deadlifts.
At age 41, my legs look better than they ever have. The best part about it? I don't have to do endless weight workouts. To supplement my cycling, I incorporate some simple leg movements into my strength workout once or twice a week—like goblet squats or dumbbell deadlifts.
Since cycling is an activity you can continue as you age, it's also good at helping slowing the aging process in your muscles. In fact, this phenomenon was examined in a 2018 study. Cycling Magazine summed up the findings:
To figure this out, researchers at King's College in London biopsied the vastus lateralis muscle—the largest and most powerful part of the quad—in 125 male and female cyclists. Participants were all between 55 and 79 years old and deemed highly active (meaning the men could bike at least 62 miles at 15 mph, and the women 37 miles at 7 mph, twice within three weeks).
The researchers then analyzed muscle properties related to aerobic function and explosive muscle power. They found that, compared to sedentary populations, the cyclists showed less age-related muscle deterioration. That is, at the tissue level, muscle mass and strength stayed intact.
As long as you're cycling, you're never skipping leg day.
Cycling is Easier on Your Body Than Running
It's a widely accepted fact that cycling is a lower impact exercise than running. The downside of this is that you burn more calories running. But I see two major upsides here for cycling, particularly as you age.
First, cycling is less hard on your joints compared to running. I've learned this firsthand, as my lower back and knees feel much better as a cyclist than a runner. One caveat here: your position on the bike is crucial, so if you go the cycling route, a good bike fit can help you avoid aches and pains.
Second, cycling allows you to manage your heart rate better than running. While heart rates vary greatly across individuals, because cycling is lower impact, you'll tend to run lower heart rates during a moderate cycling workout compared to a moderate run. As a resident of Texas, where it's often extremely hot, this reason ranks as an important one for me, especially considering my heart rate tends to be on the higher side compared to some people.
While I can max out my heart rate sprinting up a hill on my bike...I don't have to. I can change my gears and go up the hill at a slower pace, while still getting a great workout for my heart and my legs. With cycling, I'm able to better mix in all out efforts with recovery. If my heart rate goes too high, it's also easier to recover it in the middle of a workout on a bike. I've always found this more difficult with running, particularly when it's scorching hot outside.
There's Just Something Satisfying About Riding Up a Hill
Maybe I'm a masochist, but I really, really enjoy riding a bike up a hill. With running, any time I encountered a hill, I just wanted to be done with it. This resulted in a recurring scenario where I'd bomb up a hill and then kill my pace for the next mile trying to recover.
Testing myself against my own PRs or others on Strava leaderboards has become a favorite cycling pastime for me. One thing I've come to learn: there's almost always going to be someone who has an insane time up your favorite hill that you can't beat...but it's fun to try. For example, on my favorite neighborhood hill, I'm currently 62nd out of 1,539. But I keep trying, and every once in a while, I shave a few seconds off my PR. It's an amazing feeling. (Side note: those insane times on Strava are often from group rides, which you just can't beat.)
And what about going downhill? I hate running downhill. It's extremely hard on your knees. Riding a bike down hill? Adjectives that come to mind: exhilarating, thrilling, and sometimes...crazy.
Cycling Allows You To Enjoy The Scenery
This is an often cited reason why cycling is better than running, and I agree. Cycling takes you places.
It's simple logic, right? You can ride further than you can run, so there's more opportunity to see new places. While I'm pretty religious about plotting out pre-planned routes, sometimes it's fun to explore and see where the bike takes you.
My goal one day: to ride some of the more famous routes in France and England, enjoying coffee shops (and maybe a pub) along the way!
The Downside to Cycling: Cost and Safety Issues
I'm nothing if not fair, so while I clearly favor cycling, I thought I'd conclude with a few things that may be deal breakers for you if you're considering the switch.
I mentioned the first one up front: cost. Whether it's a road bike, gravel bike or mountain bike you're after, they can be expensive. Even if you start with an entry-level road bike, for example, you need shoes, pedals, a bike computer, a helmet, maintenance supplies...the list can add up, especially if you're into trying out new gear. And no, those spandex outfits aren't cheap, either. You're looking at at least $1,000 U.S. for an entry-level setup with all of those things.
If you want to get into cycling but are worried about budget, start small: look for a used bicycle online and supplies online, or consider a hybrid bike, which are usually less expensive but still super fun to ride. Use your phone to track your rides instead of a bike computer.
Safety can also be a massive issue for cyclists, particularly when it comes to road bikes. In some places, road cyclists can be subject to abuse by motorists. I've experienced this more frequently than I'd like to admit in Texas. The danger of getting hit by a car or injured in an accident is real. Even learning to clip in to pedals can be challenging. When I first started using clipless pedals, I fell several times, and even rode into a ditch. Luckily, I avoided serious injury.
The only way to mitigate the road safety issue is to design routes that follow bike routes and roads with less traffic. For the most part, though, the safety issue is one that cyclists accept as part of doing what they love.